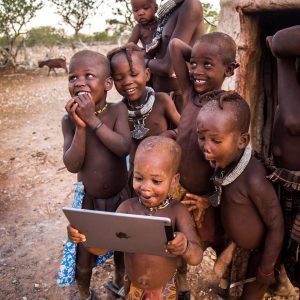 They Shoot Children Don't They?
– Asked the future photographer.
There I was…..studying a photo of African children looking at a photo captured by a photographer on an Apple iPad tablet and gasping an emotional response. It could not have been more indicative of what photography represents. A two dimensional image, projected on a screen as a picture of some kind of bright pixel reality, requires some cognitive skills to comprehend or at least have an understanding of a scratched drawing on the local terrain. But these young kids have that education and levelled up to the draws of amusing imagery on the tablet, probably photos of themselves and their expressions. And yet, they became an iconic image of modern entertainment and technology. Those facial expressions might as well be of Westerners who watched Jackie Gleason and Art Carnie do their ever loved dance routines around the Honeymooners' dining room table.
Well, we always shoot children. It's the most common subject of photography and the best ones at it are the Moms. They have the genes embedded with their subjects and know that golden moment when to release the shutter—that instant when all the endearing elements come together for 125th of a second. Sears was America's family photographer doing what Mom's hold dear.
That was my idea way back when; to photograph children like Sears, at Toys R' Us. I met with them as they had expressed interest of doing this in order to increase traffic on the store floor. But, after all kinds of analysis, humming and hawing…..they didn't go for it. So, I went to plan-B and partnered myself with Pierre Arsenault, a well seasoned commercial photographer with an awesome studio in the heart of Montreal. Now I shoot everything that drives our economy including sweet little innocent faces.